We are very pleased to announce that KeatsConnelly has partnered with Moneycorp to assist with currency exchange and transfer requirements.  Moneycorp is widely regarded as the leading foreign exchange and international payment services provider, combining a dedication to first-class customer service with industry-leading standards in security, reliability and speed.
The currency exchange market is the same as any other market, that is the price you pay varies depending on the financial institution that you use.  Timing in exchange transactions is also crucial.  Exchange rates fluctuate, and it is better to buy or sell currency when rates are favorable.  Every year, Moneycorp helps thousands of clients to save time and money on their cross-border currency transfers.
KeatsConnelly has negotiated rates that are better than you should be able to find anywhere, and certainly much better than rates offered at banking institutions.  When you create your account through the KeatsConnelly website (www.keatsconnelly.com), you will enjoy KeatsConnelly's negotiated rates.   If you do find better rates, let us know, and Moneycorp should be able to meet or beat another institution's rate.
To take advantage of Moneycorp's services, all you need to do is open an account.  Opening an account is free of charge and places you under no obligation to use their services.  You can easily open an account through the front page of the KeatsConnelly website.  There, you will find a link to a Moneycorp microsite that looks like this: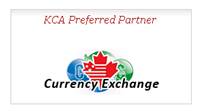 It only takes a few steps to open the account online.  Moneycorp will, however, require that you send them two valid forms of identification, which they request as part of the on-line application process.
Once your account is open, you will benefit from the following:
The most competitive exchange rates available, making your money go further
A dedicated foreign exchange expert on Moneycorp's London trading floor to guide you
Fixed exchange rates for up to two years, protecting you from the possibility of adverse currency fluctuations
No commission charges
Fast and seamless international money transfers
A 24-hour monitoring service allowing you to trade at the most advantageous rate of exchange
Extended London office hours from 7:30am to 10:30pm Monday through Friday and 10:00am to 4:00pm Saturdays
For our Canadian clients, Moneycorp is currently recruiting a dedicated sales executive to work exclusively with Canadians and their specific needs  This office will be located in the Eastern time zone (Florida) and will be easily accessible for you.
Moneycorp has a range of services to ensure that your currency trades are made at the right time and rate:
Spot – this is where you buy or sell currency 'on-the-spot' for currency that you need immediately
Forward – this is where you fix the exchange rate at the present time on a money transfer that you plan to make in the future- up to two years ahead
Regular Payment Plan – this is a fully automated and hassle free plan tailored for transactions like cross-border mortgage payments and pension transfers
Market orders – Moneycorp offers two orders, stop loss and limit orders.  These are target rate orders placed on the market which, should they be achieved, will allow you to buy or sell at your desired rate.
Moneycorp is a division of Moneycorp Group, which last year traded over £10 billion in currencies. Moneycorp takes pride in offering their clients unrivalled levels of customer service and count the Royal Bank of Scotland (RBS) as a significant shareholder in Moneycorp Group. The Company has been certified with ISO 9000 Quality Assurance accreditation since 1996, which is a unique achievement in the foreign exchange industry.
If you have any questions about the information provided here or if we can help you with your application and currency trades, please contact your KeatsConnelly representative at (800)678-5007 or a member of Moneycorp's staff at  407-352-5890.