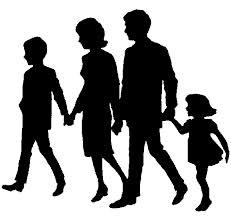 Contributed by Rachel Stever, My grandmother had been talking for a while about going to visit Boise, Idaho. She grew up in Boise and raised her family there.  She moved south to Arizona when her oldest daughter and son-in-law (my parents) came here following construction jobs in the late '70's. Her brother still lives there, but his health has been failing and she wanted to see him at least one last time. So last month she and her three daughters flew out to Boise for a week.
She returned full of nostalgic tales. They visited the old neighborhood and church, picnicked in the park, and drove up to spend a day in Idaho Falls. But as much as she enjoyed seeing the sights of her youth again, when she was telling me about the trip she kept going back to how nice it was to spend time with her daughters. My mom echoed the sentiment when she told me about the trip.
My mom's younger siblings were still in high school when she moved out and got married. She sees most of them once every few months at various family functions but there's never time to really catch up. Even on trips to see my aunt in California, there's always things to do and kids to take to the beach. For the first time in over thirty years, my mom had the chance to really spend time with her sisters.
I've been thinking about what Renée wrote last week about talking to her mother to learn her stories.  My grandmother has told me some of her stories. I've heard about how she and a friend moved to Seattle for a year to be secretaries after high school and lived in an all-women boarding house run by nuns. I've heard how her mother went to work as a church secretary during the Great Depression to keep the family afloat. And I've heard about how none of her teachers liked her at first because they remembered her older brother's reputation as a troublemaker.  I'd like to know more of her stories. But I'd also like to know the stories that are happening right now. I don't want to wait thirty years to get to know my sister again after the kids are all grown up and we're looking at retirement.
I once read a quote that said siblings are the ones who have known you from the start. I think at some point we let life get in the way and that knowledge of each other tapers off after high school.  In the last few years, most of the time I spend with my younger sister has been centered on family functions or dinner at my parents' house where the kids monopolize everyone's attention. It's always a fun time and I adore her kids. But it's nice to make an effort to get to know each other as adults.