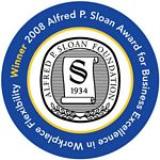 The Alfred P. Sloan Awards for Business Excellence in Workplace Flexibility are awarded as part of the When Work Works project, an ongoing initiative of Families and Work Institute, the Institute for a Competitive Workforce, an affiliate of the US Chamber of Commerce, and the Twiga Foundation. Through When Work Works, these partner organizations provide research, resources, and recognition to employers nationwide, and share the results of research on creating effective and flexible workplaces that meet the needs of the 21st century.
The Sloan Awards recognize organizations that are dedicated to making work "work" for both the employer and the employees. Representing employers of all sizes and all types, winners of this prestigious award not only offer excellent workplace flexibility practices, but they also use flexibility as a strategic business tool to enhance organizational effectiveness while also benefiting employees.
KeatsConnelly was honored for several of its employee benefits including flexible work hours, telecommuting, job sharing, paid time off, continuing education, retirement plans and more.
"We understand that in order to offer our clients the best service possible, we needed to create an environment that attracts and retains our number one asset, employees. We can only attract and retain talented and motivated employees if we provide a flexible work environment." said Dale Walters, CPA, PFS, CFP®, Chief Executive Officer of KeatsConnelly.